Managed Unified Threat Management – mUTM
Protect your company's IT network and infrastructure
NETWORK EXPERTS ENGINEERING YOUR PEACE OF MIND – NetFormers
In the contemporary world, companies are continuously facing the risk of cyber attacks. Although these attempts may frequently go unnoticed, they compromise the security of your business. Every day brings news about yet another malware or ransomware attack, information leak, data theft, or severe consequences of the lack of compliance with the recently introduced GDPR regulations.
Some of the above concepts are more ambiguous than others, but they all may imperil the continuity of your business and impact the IT infrastructure, a crucial element of any modern company.
When you're buying a new car, do you have any second thoughts about purchasing insurance that will cover your investment in case of theft or damage? Running a company is no different. Security takes precedence. Protecting your IT systems provides you with an insurance policy for the worst case scenario. Choose a service based on a reliable solution delivered by the leading manufacturer and implemented, updated, and maintained by a group of trusted security experts.
Secure company network without advanced in-house IT
In the light of today's universal cyber threat, Firewall and Unified Threat Management solutions (UTM) are the primary choices for protection of your network and IT infrastructure. Managing IT security and adhering to best practices for network protection requires an expert team of network engineers with experience in combating cyber threats.
To assist companies which do not maintain a dedicated IT/Networking department, NetFormers simplifies the implementation of advanced UTM solutions through its offering: a dedicated Managed Unified Threat Management service (mUTM).
A tailored solution for small and medium enterprises, startups, and companies without a dedicated in-house security team.
Our engineers will deliver, set up, and maintain an integrated security system for your business. This will allow your IT team to invest their time in the development of core competencies needed to conduct the critical, day-to-day business operations.
Key benefits of the solution:
Reduced business risk related to cyber attacks on your IT infrastructure.
Maintaining the highest level of security thanks to a team of dedicated experts.
Relieving your IT team of security tasks.
Cost reduction – the service includes the costs of devices and licenses.
Periodic service monitoring and system updates.
Failure handling with a guaranteed SLA.
Centrally-managed Enterprise-class devices – Fortinet FortiGate FG30E/FG60E
Core functionalities:
A comprehensive solution for protecting the Internet Edge.
Network traffic filtering.
Intrusion Prevention System.
Network anti-virus (proxy AV).
WWW traffic filtering (web filter URL).
Application control.
Remote VPN access (SSL/IPsec).
Data Loss Prevention
How much does network security cost?
Price list for an office up to 30 employees and connection <30 Mb/s.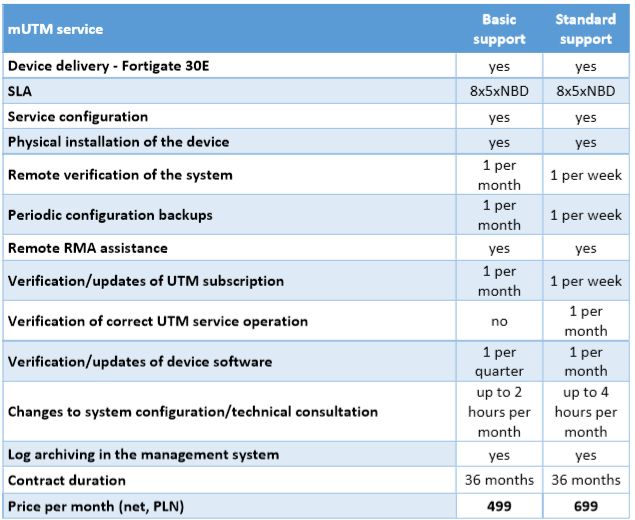 Price list for an office up to 60 employees and connection <60 Mb/s.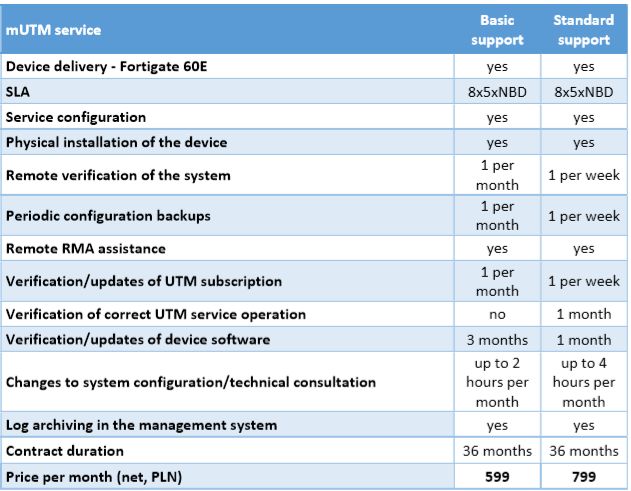 More than 60 employees
(or connection >60 Mb/s)?
No problem, we will fit a solution to your exact needs.