IT Systems Vulnerability Assessment
Reduce the risk of cyber attacks on your business
NETWORK EXPERTS ENGINEERING YOUR PEACE OF MIND – Netformers
In the contemporary world, companies are continuously facing the risk of cyber attacks. Although these attempts may frequently go unnoticed, they compromise the security of your business. Every day brings news about yet another malware or ransomware attack, information leak, data theft, or severe consequences of the lack of compliance with the recently introduced GDPR regulations.
One of the requirements imposed by the new data protection laws (GDPR) are periodic vulnerability scans and updates of systems that process personal data. An anti-virus won't suffice.
To assist the companies which do not maintain a dedicated IT department, NetFormers simplifies the implementation of vulnerability scanners through its offering: a dedicated service of a periodic vulnerability assessment and analysis of your IT environment.
Our engineers will deliver, set up, and maintain an all-inclusive system for comprehensive scanning of your entire IT infrastructure to provide the highest level of security to your business. This will allow your IT team to invest their time in the development of core competencies needed to conduct the critical, day-to-day business operations.
A tailored solution for small and medium enterprises, startups, and companies without a dedicated in-house security team.
Detect vulnerabilities and protect your company's network
What's included in your IT Vulnerability Assessment package:
Periodic vulnerability scans of computers in your network – performed every month or quarter.
Monthly or quarterly reports with details of detected vulnerabilities and recommended corrective actions. 
Up to 254 scanned devices in Layer 2 subnet included in the basic package.​
Possible extension of the scanned device range after successful verification of the network architecture.
Our scanner has been developed based on the OpenVAS framework, one of the most advanced open source tools for vulnerability scanning that uses multiple bases with several hundred thousands of known vulnerabilities.
The scanner installation usually does not require network reconfiguration.​
The scanning is performed from the customer's network – we deliver the scanner as a VM or a mini server (physical).​
The key benefits of the service:
No extra capital investment
Instant improvement in IT security in your company.
Compliance with GDPR regulations on the periodic review and monitoring of security of your IT systems.
Automated vulnerability tests and detecting vulnerabilities in IT systems.
Periodic review of the security risk in your network.
Clear and transparent vulnerability report providing recommendations for corrective actions.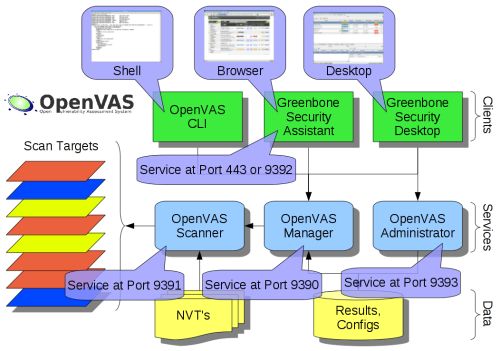 Test base:
NVT – Network Vulnerability Tests
CVE – Common Vulnerabilities and Exposures
CPE – Common Platform Enumeration
OVAL Definitions – Open Vulnerability and Assessment Language
CERT-BUND Advisories
CERT-BUND Advisories
Cyberbezpieczeństwo pod kontrolą
Cykliczne raporty podatności
Rekomendacje działań naprawczych
How much does network security cost?
The service is available in three payment plans: 12-monthly, 24-monthly, or 36-monthly.  The longer the contract duration, the better the value-for-money.
Safety12
Contract duration: 12 months
Safety24
Contract duration: 24 months
Safety36
Contract duration: 36 months
Questions?
Do you have any questions? Would you like to proceed with the service? We're here for you: sales(at)netformers.pl
Let's engineer your network success together.